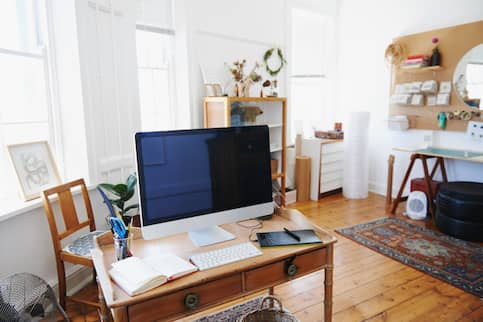 9 Home Office Ideas
Published on July 24, 2022
As more and more people are working from home, there is a surge in demand for home offices. That's great if you are house hunting – but if you have no plans of moving, you will want to figure out a way to incorporate an office space into your existing home. A home office could be a dedicated room, but it could also be squeezed into a nook or corner of your existing space.
Whether you're running a business from home and need an expansive office space, or if you just want a place where you can focus from time to time when you work from home, these home office ideas will help you set up a working space in your home that's perfect for you!
Need extra cash for home improvement?
Use your home equity for cash-out refinance.
Start My Approval
9 Modern Home Office Ideas
Working from a messy corner of your home? It might be time to create an organized and stylish home office. We have nine home office ideas to inspire you.
1. Go Minimalist
Many people prefer a minimalist take on their home office. With minimalism, less is more and downsizing is essential to a minimalist lifestyle. Creating a minimalist office space is easier to clean, easier to maintain, and allows for more productivity. A minimalist home office space will have less material items and home decor, clean lines and usually soft colors used throughout.
Certain business types will more easily translate to a minimalist look than others. If all you need is a laptop, it's pretty easy to pull off. If you have tons of papers or supplies, it will be more difficult.
If you like a minimalist look, keep it simple with your decor and extras. Add some hidden storage such as drawers or cabinets so that any extras can be tucked away. Finally, be sure to clean up at the end of each night so you start fresh with a clean slate in the morning.
Need extra cash for home improvement?
Use your home equity for cash-out refinance.
Start My Approval
2. Save Space
If your home is a little cramped, you should find ways to save space while constructing your new work area. Easy ways that you can save space and optimize small spaces include choosing a collapsible or wall-mounted desk, utilizing wall shelving, adding floor-to-ceiling bookshelves, and selecting furniture with added storage.
Always think vertically to take advantage of any available wall space for storage or displays. Cleanup your workspace as much as possible each evening to help it feel less intrusive in the rest of your home.
3. Make It Unique
You have the creative freedom to play with interior design and create an office space that feels unique to you. There are many ways that you can make a unique home office. Using your favorite colors or patterns in paint and wallpaper is a quick and inexpensive way to personalize the space. Carry those themes into other textiles such as rugs, upholstered furniture and window treatments.
Another great way to personalize your home office is with custom wall art. Family or personal photos are a great way to make your room feel welcoming and cozy. You can easily create a gallery wall of photos or artwork that you love. Play with shapes and sizes for an unexpected, bold look.
4. Create A Nook
Creating a nook area to work in can be very productive while also giving yourself just the perfect amount of space you need to get things done. If your home doesn't have an empty nook, there are creative ways that you can find the perfect nook for your home office.
Consider closets, corner areas or hallways for spots that might allow space for a small desk and chair. Small desks can be slid into nooks, or you could even use a fold-down desk in a very narrow space.
5. Make It Multipurpose
Multipurpose spaces are essential, especially if you have a larger family living in your home. The fact is that you won't be working 24/7, so you can make a home office space still be usable after hours. Consider other space needs that your family has and how you could combine the two spaces.
For example, a work from home desk could turn into a homework spot for the kids in the evening. A vanity where you get ready in the morning could be perfect for working on a laptop in the middle of the day. An unorganized storage closet could be updated with a desk on one side and storage shelving on the other. Think outside the box. Your home might have an extra nook after all.
6. Get Creative
Creating a home office doesn't have to break the bank as long as they think creatively about the items they already own. Take a look at what you already have when deciding on creating a dedicated workspace.
Shop your home for underutilized tables, decorative chairs and unneeded storage cabinets. Repurposing these items to a new home office area can help to clear up some of the clutter in the rest of your home, too.
7. Lighting Matters
No matter what type of work you will be doing, lighting matters. If your office doesn't have good natural lighting, you will need to add overhead or floor lights. If you do a lot of work with your hands, you might want task lighting such as a tabletop lamp so that you can see what you are doing.
Along with lighting, remember that light coming in from windows can cause a glare or shine in your eyes. Plan for curtains or blinds accordingly.
8. Plan for Privacy
No matter what type of work you do, you need at least some peace and quiet, if not total privacy. If you have a dedicated office room, it most likely has walls and a door. If not, you will need to get creative on how to get your quiet time.
Freestanding dividers are a great way to block yourself off as needed and give family members a visual reminder that, while you are physically present, you're actually working.
9. Remember what Makes you Happy
What makes you happy during the day? Is it looking out the window, or at a big photo of the beach? If plants help relax you, incorporate them into your office space. For those with pets, consider adding a pet bed under the desk so that your dog or cat will have a spot to snuggle up next to you.
Tips For The Ultimate Home Office
There are many tips homeowners can follow to create the ultimate home office experience.
Select The Right Location
Step #1 to creating your dream home office is picking a location. Can't really create something unless you have somewhere to create it. Finding a location for a workspace can be tricky depending on the living situation. You should aim to find a place that you enjoy being in while also having the right amount of space to fit exactly what you'll need every day.
There are many areas a home office can be inside a home, including:
Attic
Guest bedroom
Dining room
Kitchen
Living room
Hallway
Closet
So how do you choose the right spot for your office? You'll want to take the three S's into consideration: size, sunlight and sound.
Size
Start by figuring out how much space you'll need for your home office. Will you be using it to do bills and personal projects? Then you might not need a whole room dedicated to your office. Maybe a section in the kitchen or the living room would suffice. Will you be running a full-fledged business from your home? Then you may want an entire room.
Sunlight
This one goes back to the point of knowing what kind of environment you work best in. Are you more motivated when there's natural light coming in? Then you're going to want to make sure you're by windows. If you prefer artificial light, or if you're using your office as an editing suite or something that would require less light, an interior room could work well.
Sound
If you find it hard to work with lots of noise and distractions, then a high-traffic place in your house might not be ideal. Do you want to go somewhere you can shut the door and block off some of the noise? These are all things to consider when choosing your home office location.
Pick Proper Furniture
Once you have a space and you've painted the walls, it's time to start bringing in the furniture! If a home office is going to be your primary working spot for the day, you are going to want to find furniture that can accommodate you very comfortably.
Desks
The cornerstone of every home office is the desk. It's where you'll be spending the majority of your time while working, so you'll want it to be stylish and functional. You will want to find a work desk that is big enough to hold whatever devices are needed throughout the day such as your laptop, keyboard, mouse, or iPad, and can also fill any storage needs such as a filing area, cabinetry, or drawers.
Traditionally, desks come in five different designs: secretary, corner, writing, computer and hutch.
A secretary desk is the combination of a writing desk and an organizational unit and is perfect for the occasional desk user. Traditionally, you can fold the writing surface out and reveal an area for storage. This makes it a great option to store mail, bills, notes and office supplies, while keeping your space looking neat and tidy. More modern secretary desks have the writing area already exposed so you don't have to worry about folding anything out, but they still come with built-in storage.
Corner desks are a great way to save space. They fit conveniently into a corner, making your room feel more open. While they're compact units, you can find larger wraparound corner desks that provide you with a lot of surface space. Whether you have a small space to work with or if you have a larger space and need a big work surface, a corner desk can be great for you.
Minimalist design is sweeping the home office world, and with it come simple, clean desk designs. Writing desks are perfect for a sparse aesthetic. With a larger desktop, there's more room for writing and less focus on storage. The sleek design of a writing desk keeps the space feeling modern and elegant.
A computer desk is the most common style found in a home office. It comes with a large desktop area and space for a computer tower and monitor, as well as storage for all your accessories. Typically, they have an area in the back that keeps cords out of sight as well. If you plan on having a desktop computer set up in your home office, a computer desk is the way to go. Last, but not least, is the office hutch. If you need a lot of storage, this is the solution. A hutch comes with a full size desk for your computer and writing, but it also has cabinets and shelving. Because it has so much storage (seriously, these things can be like 3 pieces of furniture in one) an office hutch takes up a lot of room.
If you have a small room, this isn't the best choice, but if you've got the space, the organization a hutch brings will keep your home office running smoothly.
Seating
Now that you have your desk, you need something to sit in. While you can cut costs in a lot of places, your chair should not be one of them, especially if you plan on spending hours working in your home office. It is important to find an ergonomic desk chair that will provide support and comfort all day long.
Ergonomic chairs are a little more expensive but they're designed to give you the most back support possible. This is crucial when working from your desk most of the day. These will come with settings to adjust the height of the chair, the armrest, the headrest and even the back brace. They help you stay comfortable and maintain proper posture.
If you don't intend to stay seated for long hours and don't want to spend the money for an ergonomic design, a basic task chair will work fine. These are the most common office chairs. They're pretty simple, and don't provide much customization or support, but they're cost effective, which is a good tradeoff for someone who won't be at their desk for hours straight.
If you're trying to watch your budget, check out local estate sales or vintage shops for these key pieces. You can find unique options and cut costs by shopping secondhand.
Keep It Organized
Once your furniture is moved in, you'll start thinking about how to organize your office. An organized workspace not only boosts productivity but will keep your home looking tidy and put together as well. Making a habit of cleaning up and organizing after every work day is a good practice to have so the workspace doesn't become cluttered and unmanageable.
Maybe you need some extra shelves or filing cabinets for your things. Even if you don't have a lot of space, making organization a priority will help you in the long run. Even simple things, like hanging floating shelves, will help keep equipment off your desk and give you more space to do your work. Desk accessories such as folders, notebooks, file trays, drawer organizers, and pencil holders are easy and inexpensive ways to keep your workspace organized.
Optimize For Your Needs
One of the biggest perks of a home office is the ability to customize it to your everyday needs. These could be professional, office needs, or more personal preferences.
With different jobs come different requirements. For example: If someone works with a lot of printed papers, they might need an extra-long desk to hold a printer and other paper products. If someone works in the digital space, they might need more areas for plugs and other devices. If someone is in tech, they might need more space for extra monitors or a spot with less light so they can see all of their screens properly. When it's your office, you can set it up exactly how you like it.
On the other hand, it's important to optimize a home office for personal needs as well. For example: If someone prefers natural light instead of overhead indoor lighting, if someone likes being near windows or not, if someone tends to eat at their desk and work, they might need more space for that.
The Bottom Line: Use These Home Office Design Ideas To Create A Dedicated Working Space
Home offices are becoming increasingly popular and valuable additions to the home. Even if you don't have a huge space, it's possible to slip a home office into a small nook or corner. Remember to decorate even a small office space to be functional, comfortable, and beautiful to make the most of your at-home work time.
No space for an office? Consider getting started on a cash-out refinance if you are looking to build out an even larger space for your dream home office.