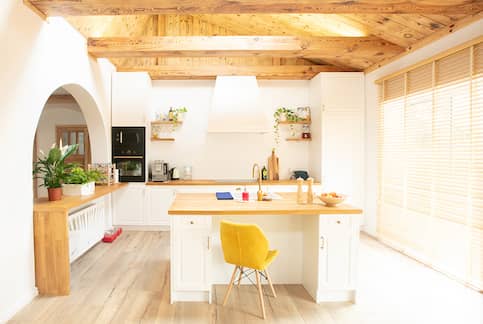 Energy-Efficient Homes: Top Design And Building Elements
Published on April 15, 2021
Energy-efficient homes are increasing in popularity as homeowners become more interested in sustainability and living environmentally friendly lifestyles. Whether you're looking to build from the ground up, remodel an existing house or buy a home that's already energy-efficient, there are some key design elements that are essential for any truly green home.
Let's look at what those are.
What Makes A Home Energy-Efficient?
The phrase "energy-efficient" means using less energy to produce the same service. It's also used to describe any action that saves or conserves energy.
An energy-efficient home is a property that is designed to use less energy while still providing the same level of protection, comfort, convenience and aesthetic appeal as a more traditional house would.
A simple example of practicing energy efficiency in your home would be switching out your traditional light bulbs for compact fluorescent bulbs or light-emitting diode (LED) bulbs. While both bulbs produce light, the compact fluorescent and LED bulbs do so using less energy.
Design Tips For Building Energy-Efficient Homes
Terms like "green," "sustainable" and "energy-efficient" are not only used interchangeably, but also liberally when defining a home's features. If you're in the market to build or buy a house or want to increase the value of your current home by adding energy-efficient features, here are a few common things to look out for:
1. Use The Right Building Materials
Choosing to use more sustainable building materials, such as reclaimed wood, in the construction and repairing of a home is one way you can be more energy-efficient in your design choices.
Additionally, there are building materials that can increase a home's efficiency, including:
Recycled steels
Concrete
Bamboo
Eco-friendly paint (for once the construction is complete)
If you're building a new home or upgrading a preexisting home, making the choice to generate less waste by incorporating sustainable materials into the design of your property can not only improve its energy efficiency, but it will also reduce the amount of waste being disposed of in landfills or incinerators.
2. Remember That Insulation Is Key
Take a look at the windows, doors, attic and walls of the house. Are they properly sealed and insulated, or is air slowly seeping through missed cracks? Proper insulation helps keep your home warm in the winter and cool in the summer without making your heating or cooling system work overtime to regulate the temperature.
Window panes are an often-missed opportunity for energy-efficiency. By installing two- to three-paned windows in your home, you provide an extra element of insulation as well as home security for your house.
If you're starting from the ground up with a new build, pay extra attention to the building seal and insulation of your ceilings, walls and floors. To be truly energy-efficient, you'll need to install more insulation than is required by building codes.
3. Buy Efficient Appliances And Utilities
Your appliances could be the culprit behind high energy bills, but that's where energy-efficient appliances come in. Energy Star appliances not only offer savings on energy bills, but since 1992 they have also contributed to a 3.5 billion metric ton reduction in greenhouse gas emissions often caused by products with inefficient energy use.
Additionally, be sure to inspect your heating, ventilation and air conditioning (HVAC) systems, because leaking duct systems can cause you to lose thousands of dollars per year to energy costs. Additionally, making the switch to low-energy systems, such as LED bulbs or low-flow fixtures and toilets, can also save you major money.
4. Consider Integrating 'Smart Home' Systems
Smart home upgrades can not only make your house more automated, but they can also save you money on energy bills. Some popular upgrades include:
Home hubs
Smart lighting systems
Energy meters
Smart thermostats
Many smart home devices learn your habits and preferences and can suggest changes in your energy use based on your needs and how much money you want to save.
5. Harness Solar Power
Starting a new build? Place your windows strategically to take advantage of the sun's natural heat. If you build plenty of south-facing windows, you'll be able to heat your home more efficiently in winter. In summer, covering the windows will keep the house cool.
Although it's an expensive addition, solar panels have a high return on investment (ROI) and can save you money on energy use, depending on your location. Some electric companies may even pay you for any additional energy that your solar panels produce.
However, solar panels might affect your mortgage, so make sure you speak with your lender before installing solar panels in your home.
6. Aim For An Efficiency-Certified Home
In some cases, homes will feature LEED certification as a key selling point for energy efficiency. A home with LEED certification means that it meets specific environmental standards established by the U.S. Green Building Council (USGBC).
Visit the USGBC website to speak with a LEED representative about your home to see whether you fulfill the standards for qualification – or if you're just starting to build, consider using the guidelines as a blueprint for your designs.
7. Consider Your Location And Climate
Before starting a building project or remodeling your home, make sure you know the specific energy concerns of your locale. If you live in a temperate climate, for example, you might not need to put as much effort into insulating your home. There might be more effective ways to use that money to achieve greater efficiency in the long run.
Depending on where you live, you can also find a number of ways to make your landscaping energy-efficient.
Apply Online with Rocket Mortgage
Get approved with Rocket Mortgage® – and do it all online. You can get a real, customizable mortgage solution based on your unique financial situation.
Apply Online
How To Make Your Home More Energy-Efficient
Not ready to buy or build a new, energy-efficient house? There are plenty of steps you can take in your current home to improve energy-efficiency and save you money in the long run.
Get An Energy Assessment Or Audit
The U.S. Department of Energy can provide you with recommendations for energy assessors in your area. Considering factors like the home's structure, heating and cooling and hot water systems, the Department of Energy will assign a Home Energy Score that determines the energy-efficiency of the home as well as recommendations for how to improve your home's energy-efficiency.
The U.S. Environmental Protection Agency (EPA)'s Energy Star program can also perform energy audits on your home to determine what you should upgrade. Home audits typically vary in price, from free to $500, depending on your location and your service provider.
Lower Your Thermostat
Adopt the habit of lowering the temperature on your thermostat while away from home. Dropping the temp by just 3 – 5 degrees can reduce your energy use and lower your monthly utility bill. According to Energy.gov, lowering your thermostat by 7 – 10 degrees for 8 hours a day can save you as much as 10% per year on your heating and cooling bills.
Limit Space Heater Use
Although electric and gas space heaters keep your feet nice and toasty under the desk during cooler weather, they aren't the most efficient way to heat your home. Many space heaters use 1,500 watts of energy to run, and can cause a spike in the cost of your energy bill. Be sure the model of your space heater is energy-efficient, or consider layering up your clothing and using blankets instead.
Make Smart Water Choices
According to the EPA, the average household can save about $380 per year, as well as more than 2,700 gallons of water per year, by installing EPA-approved WaterSense showerheads and other fixtures.
A few more water-saving hacks:
Use low-flow showerheads to halve your shower water consumption. These showerheads can increase your water pressure while decreasing your water use.
Turn off water while brushing your teeth so nothing goes to waste.
Avoid running small loads of laundry and instead do fewer, larger loads.
Use warm or cold water in your washer to cut back on the bulk of your laundry energy consumption.
Start Composting
You don't need a ton of space in your backyard to start a compost pile. Compost is the result of organic waste that's kept in a pile or container that decomposes over time.
Your fruit and vegetable waste not only becomes valuable fertilizer for your lawn or garden, but it also reduces the amount of trash you produce on a daily basis.
Explore additional ideas for a more energy-efficient home.
Is An Energy-Efficient Home Worth It?
Wondering whether you should bring more energy efficiency to your home? The answer is yes.
Read on to learn why the benefits outweigh the drawbacks.
Benefits Of Having An Energy-Efficient House
Energy efficiency boasts more benefits than just better-burning light bulbs, including:
Saving you money on utility bills
Providing tax rebates (depending on what state you live in)
Minimizing your carbon footprint
Boosting the economy
Increasing your quality of life
Not to mention that, because of the growing popularity of energy-efficient homes, incorporating energy-efficient features in your home can increase its market value. In fact, a recent Freddie Mac study indicates that homes rated as more energy efficient tend to sell for 3% – 5% more than neighborhood comparables (comps).
Downsides Of Having An Energy-Efficient House
The only downside of an energy-efficient home is the upfront cost. Whether you're purchasing a newly built home or converting your preexisting home, energy-efficient features don't come cheap.
From home appliances such as Energy Star products, to new insulation to smart home technology, building a new, energy-efficient house could cost homeowners more than a conventional home. For already-built homes, the cost to upgrade to energy-efficient features can reach well into the thousands.
However, the only variable higher than the cost to build a new house or update to an energy-efficient house is the savings you can expect from having energy-efficient features in your home. Energy-efficient home improvements could also qualify for the Non-Business Energy Property Tax Credit through the end of 2021.
The Bottom Line: An Energy-Efficient Home Is A Win-Win
Knowing what to look for when buying, building or selling an energy-efficient home is the first step toward cultivating a more environmentally friendly lifestyle. By making conscious choices to improve your individual environmental impact, you can feel good about doing your part to protect the planet while also saving yourself money on energy bills. It's a win-win!
Ready to start looking for an energy-efficient home of your own? Apply online today to see your mortgage options and start searching for the green home of your dreams.