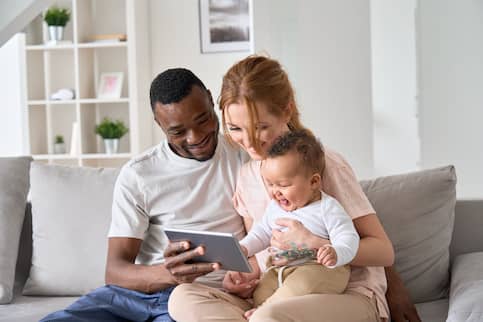 YOURgage® Loan: What It Is And How To Qualify
Published on April 19, 2023
Every home buyer's journey is unique – and so is their timeline. While a traditional 15- or 30-year mortgage may not provide the flexibility you want, YOURgage from Rocket Mortgage® could. The loan provides you the ability to customize a mortgage loan term to your budget, payoff timeline and financial goals.
What Is A YOURgage Home Loan?
YOURgage is a fixed-rate mortgage loan option that grants clients the ability to choose their loan term, which is the length of time it takes for a loan to be paid off completely. Instead of a traditional mortgage with preset 15- or 30-year options, YOURgage allows borrowers the flexibility to choose a loan term between 8 and 29 years.
This type of loan is beneficial for clients with a payoff timeline different from 15 or 30 years. It's also good for those who want a fixed rate but flexible loan term. This loan is designed to give you control and find a loan term that best suits your unique circumstances when buying a house or refinancing.
How Do YOURgages Work?
The application process for a YOURgage is very similar to obtaining a traditional mortgage but with a one key difference – you'll have more options when it comes to choosing your term.
You'll choose a term between 8 and 29 years, gather the necessary paperwork and complete a mortgage application. You'll need to supply all the same information and documentation as a traditional mortgage, like W-2s, paystubs and tax returns. Upon finalization of the loan, you can expect to begin making monthly mortgage payments. Since the loan has a fixed interest rate, the principal and interest portion of your payment will remain the same over the loan term. Don't forget, you always have the option to make additional payments at any time and pay off the loan early.
Keep in mind that the fewer years you choose for your loan term, the higher your monthly payment will be. That's because you have less time to pay the loan off.
Who Is A YOURgage Loan Best For?
A YOURgage loan benefits borrowers with financial goals that require lower interest rates than a 30-year mortgage, but lower monthly payments than a 15-year mortgage. For example, let's say you want a lower interest rate than a 30-year mortgage but can't afford the monthly payment of a 15-year mortgage. With YOURgage, you could choose a 20-year loan term.
This option also benefits borrowers who wish to pay their loan even sooner than in 15 years, beginning with loan terms of 8 years.
YOURgage Borrower Requirements
Interested borrowers must meet the following minimum requirements to qualify for a YOURgage home loan:
Find A Mortgage Today and Lock In Your Rate!
Get matched with a lender that will work for your financial situation.
Get Started
Benefits Of YOURgage Loans
Financing a home purchase with a YOURgage can have specialized benefits, including:
A customizable loan term: You're no longer limited to 15- or 30-year mortgages. Instead, you can personalize loan terms to best suit your budget and financial timeline.

A fixed interest rate: A YOURgage comes with a fixed interest rate regardless of the loan term, ensuring you won't have to worry about rising interest rates in the future.

A low down payment requirement: You must make a down payment of at least 3%. However, clients can avoid

private mortgage insurance

with a 20% down payment.
Lower interest: YOURgage allows clients to choose a loan term shorter than 30 or 15 years. Depending on the choice of term length, borrowers can save thousands in interest payments by lowering their term.
How To Take Out A YOURgage Loan
Clients ready to apply for a YOURgage can begin the process with a few simple steps:
Start the process. Get started online by answering a few simple questions about your homeownership goals.

Fill out a YOURgage loan application. The application will require you to provide qualifying information about your financial situation and property.

Choose your loan term. Compare term lengths and run the numbers to determine which loan term best suits you.

Get approved for a YOURgage. Approval is based on an underwriter's comprehensive analysis of your credit, income, employment status, assets and debt.
The Bottom Line
YOURgage gives you the ability to choose a loan term that best suits your timeline, making the process of financing a house flexible, inclusive and more comfortable.
If you're interested in buying a house and taking out a YOURgage, start your loan application online or call a Home Loan Expert at (888) 452-0335.
Find A Mortgage Today and Lock In Your Rate!
Get matched with a lender that will work for your financial situation.
Get Started