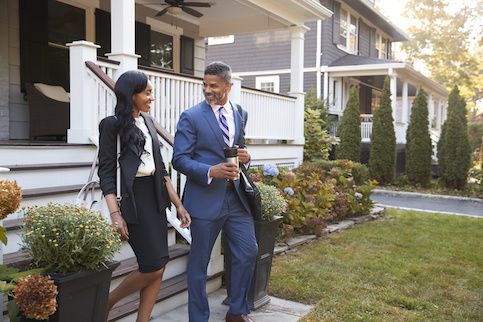 What You Should Really Be Looking For In A Lender (And It's Not Just Rates)
Published on October 29, 2019
When you shop for a mortgage, you've got a lot to think about. How much can you afford? If you're buying a house, where do you want to live? If you're looking to refinance, what are your goals?
Another key consideration should be who handles your mortgage. It can be tempting to look at the lender with the lowest overall rate. Advertised rates themselves can sometimes be unintentionally misleading because your rate is determined mostly by your personal financial profile. In most situations, you're probably not getting the advertised rate.
Although your rate should be a consideration, it shouldn't be the only one. You should also be looking at the options the lender provides, the level of service, ease of use and any fees they may be charging.
If you're looking for the best possible mortgage financing, we'll take you through what you need to look for when shopping around. Let's start at the place most people would look when starting their mortgage shopping journey – the rates page. After that, we'll take a look at some of the less obvious factors that can set lenders apart.
Mortgage Rates – Buyer Beware
When you're shopping for a mortgage, it's only natural to look at interest rates. However, publicly available rates on mortgages can be misleading. It's not intentional, but let's walk through why you shouldn't take these quotes at face value.
There are actually a number of items that help decide your interest rate. The base rate that people get is influenced by market factors, including movements in the bond market. Although there's not a perfect correlation, generally if people are worried about the economy, they pull their money out of stock and buy bonds for the guaranteed return, pushing mortgage rates down as mortgage bonds become more popular. If it's the other way around, rates tend to go up.
However, your personal financial situation has a lot to do with your rate as well. When mortgage lenders set your rate, they look at a number of factors in determining your personal interest rate. Two of the biggest ones are your median FICO® Score and your down payment amount or equity stake following the closure of the mortgage. For both categories, the higher the better. Others include the loan type as well as the number of prepaid interest points you choose to pay for.
Shorter terms often mean lower rates because the investor doesn't have to wait as long for the payback.
Because one of the first things people look at is the rate, mortgage lenders know that they have to post samples on their site. However, because everyone's loan is different, each quote on the website comes with its own set of assumptions. These include:
Loan amount
Term
Loan-to-value (LTV) ratio: a comparison of the loan amount with the actual value of the home. You get this by taking the value of the home and subtracting any existing down payment or equity stake from 100 (E.g., 3% down payment equals 97% LTV)
Number of discount or prepaid interest points paid
When comparing rates, keep three things in mind.
Try to compare apples to apples. If you're looking at a 30-year fixed, compare with other 30-year fixed rates.
Make sure you're looking at the annual percentage rate (APR) because this accounts for both the interest charged for the loan as well as any cost in setting it up. The bigger the difference between the base rate and the APR, the more fees the lender is charging.
Keep in mind lenders may be using different hypothetical scenarios in their assumptions to come up with the rates.
Although many of us start with the interest rate when shopping for a mortgage, it definitely shouldn't end there.
It can be easy to get caught up in the rate game and picking a lender because they offer a rate that's 0.125% or 0.25% lower than the next mortgage originator down the street. While it may seem like a good idea at the time, it shouldn't be the only basis for your choice of mortgage lender. Here are a few other things to consider.
Does The Lender Offer Anything To Give You A Leg Up?
Beyond the rate itself, you should ask yourself what a lender offers you when it comes to your mortgage transaction. Whether you're looking to buy or refinance, Quicken Loans offers some cool advantages to its clients.
Power Buying Process™
If you're looking to buy a home, you've probably noticed it's a very competitive market out there right now. Inventory is low, and that means that much of the time, sellers have a choice when it comes to whose offer they'll accept. Sometimes it comes purely down to how high the bid is, but sellers also appreciate certainty and that's where our Power Buying Process comes in.
This process helps give both buyers and sellers certainty as to what an offer means when it's on the table.
A Prequalified Approval has us pull your credit to see your median FICO® Score and get verbal or written (but unverified) estimates of your income and assets. Although this is a great way to estimate what you can afford, it carries all the weight an estimate normally would – not much.
We encourage all of our buyers to take the next step and go forward with a Verified Approval™.
Verified Approval is like a Prequalified Approval, but we verify your income and assets by collecting documentation like W-2s, bank statements and pay stubs. This gives your offer equivalent strength to that of a cash buyer because the seller knows that your information has been verified by us and you have access to the financing to back up your offer, which could give you an advantage over other prospective buyers in a multiple offer scenario.
To give you that extra confidence boost you deserve, if through no fault of your own your loan doesn't close after our review, we'll give you $1,000.1
Ease-Of-Use
Buying a home or refinancing your current one can already be stressful enough. With a lot to think about, you'll want a lender who takes the complexity out of the process so you can focus on what's really important.
With Rocket Mortgage, we've taken some of the biggest things that made getting a mortgage a painful experience in the past and launched them into the stratosphere. No more hunting for W-2s, pay stubs and bank statements. You're able to sign on to one of our many trusted partners and share your information directly through an asset import tool and, in many cases, even have your employment verified electronically.
While the aim of Rocket Mortgage is to make things radically simple for all of our clients, getting a mortgage is still a huge financial transaction. We understand if you want to talk to one of our Home Loan Experts at any point. They're here to answer your questions while still leveraging the power of technology to allow you to securely share the information we need to get you the best loan option for you.
Client Service
When you're looking for a lender, you want to find one who will work for you and provide the highest level of client service.
When you get your home loan with us, moving through the steps on Rocket Mortgage and working in tandem with our Home Loan Experts, we aim to make your mortgage process as smooth as possible. We're honored to have received J.D. Power's highest-ranking for customer satisfaction for Primary Mortgage Origination each of the last eight years. But it doesn't stop at the closing table. We hold the highest-ranking in the nation for Mortgage Servicing from J.D. Power for the last five years as well.2
Quicken Loans services the majority of the loans it originates. That means we're your mortgage partner for life, from application until you make your last payment, even if that's 30 years down the line.
Because we maintain that relationship with you throughout the life of the loan, we'll also be able to let you know when it might be a good time to refinance if you have the opportunity to lower your interest rate, remove mortgage insurance premiums or use your existing equity to accomplish any other financial or life goal you may have.
Finally, while other servicers often try to pinch their pennies everytime they can, at Quicken Loans, we know that a penny saved is just a penny. Quicken Loans doesn't charge fees for paying off your loan early. We also won't charge you to get your mortgage documents or to pay online or over the phone. Other lenders can't always make the same claims. If they sell the servicing rights to collect your payments after your loan closes – and many do, they likely won't be able to tell you what fees you'll be charged after the loan closes.
If you can, have the lender be clear with you on whether they sell servicing. Ask what fees you can expect and how to avoid them.
If you're looking to buy a new home or refinance your current one, you can get started online or give one of our Home Loan Experts a call at (800) 785-4788.
Apply Online with Rocket Mortgage
Get approved with Rocket Mortgage® by Quicken Loans – and do it all online. You can get a real, customizable mortgage solution based on your unique financial situation.
Apply Online
1 Participation in the Verified Approval program is based on an underwriter's comprehensive analysis of your credit, income, employment status, debt, property, insurance, appraisal and a satisfactory title report/search. If new information materially changes the underwriting decision resulting in a denial of your credit request, if the loan fails to close for a reason outside of Quicken Loans' control, or if you no longer want to proceed with the loan, your participation in the program will be discontinued. If your eligibility in the program does not change and your mortgage loan does not close, you will receive $1,000. This offer does not apply to new purchase loans submitted to Quicken Loans through a mortgage broker. Additional conditions or exclusions may apply. Verified Approval within 24 hours of receipt of all requested documentation.
2 Quicken Loans received the highest score in the J.D. Power 2010-2017 Primary Mortgage Origination and 2014-2018 Primary Mortgage Servicer Studies of customers' satisfaction with their mortgage sales experience and mortgage servicer company, respectively. Visit jdpower.com/awards