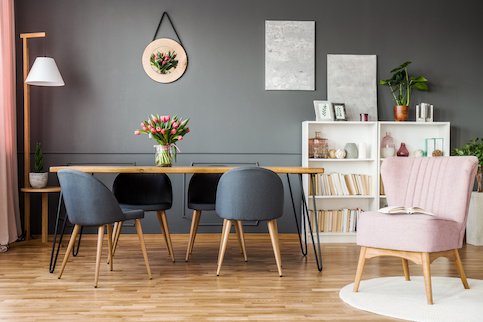 Tips For Buying A Brand-New Condo
Published on November 5, 2019
There's a new condo project with a swimming pool, tennis courts and a communal clubhouse that's caught your eye. Between these amenities and the idea of never having to worry about shoveling snow or raking leaves, you're ready to sign up and move in tomorrow.
Before you go forwarding your mail to the new address, there are just a few things you should know about getting a mortgage for a brand-new condo.
Construction Requirements
If you're buying a brand-new condo unit, the entire complex may have to be finished before anyone can get a mortgage. If the condos you're looking at are scheduled to be completed in phases, the most recent phase of construction must be complete.
These phases are spelled out in the project's governing documents, which are set up by the builder.
The construction requirements are for your protection. Mortgage investors like Fannie Mae, Freddie Mac, the FHA and the VA want to be sure that the property you're going to occupy is safe and move-in ready, that way you don't run into any problems down the road.
Sales Requirements
Many people buy a condo for the communal spaces and a maintenance-free lifestyle. These things are funded by dues collected by your condo association. The more occupants you have in your condo complex, the more money your condo association has to keep up with maintenance and repairs of communal property.
Because a poorly run condo association can have a detrimental effect on your property value, the major mortgage investors generally require that condo complexes be 90% full in the builder presale, meaning sold and occupied, before they'll approve mortgage financing. However, if you're looking to buy before 90% of the other units are occupied, your lender may still be able to help you.
There are also limits on how many units can be owned by one individual or entity. This way, if one of the owners were unable to pay their dues for any reason, the association wouldn't miss out on a major chunk of its funding.
What Is The Standard Down Payment On A Condo?
A typical down payment on a condo is roughly 3% –20% of the purchase price. Down payments vary depending on the location, and the type of loan a borrower obtains to pay for their unit. Be sure to check out our mortgage calculator to help determine your monthly payment and review your loan options.
Do Condos Go Up In Value?
A few factors determine whether a condo will go up in value, including: inflation, supply and demand, location and condo fees. Having a new condo is great because they require less maintenance, but the older they get, the higher their maintenance costs might be. One thing to keep in mind with buying a new condo is they don't appreciate at the same rate as a home for a single family, but they typically go up in value over time.
Condos in highly trafficked areas that are close to transit, entertainment and other amenities have a better chance of attracting a higher price when it comes time to sell.
Apply for a Mortgage with Quicken Loans®
Call our Home Loans Experts at (800) 251-9080 to begin your mortgage application, or apply online to review your loan options.
Start Your Application
Budget Requirements
It may be necessary for your lender to review the condo association's budget to determine the health of the condo project. This helps your lender make sure the project will remain solvent should there be a big expense.
Your lender will typically perform a budget review if you have a high loan-to-value ratio (i.e., a low down payment). The budget review might also be necessary if you're buying a condo as an investment property.
The builder or condo association should be able to help furnish the appropriate documentation for the review. Your lender will reach out to these parties on your behalf to obtain the documentation. There are several budget requirements your lender will look for, but we'll highlight a couple of the big ones.
Condo associations must set aside 10% of their budget for emergency reserves or savings. This ensures that there will be money for repairs that affect external areas or use of communal parts of the property. Reserves can be used for things like replacing the pool filter or fixing the air-conditioning in the clubhouse.
Your lender may also take a look at where the condo association gets its income. It can't get more than 10% of its income from public business operations. This limits the amount of income the condo association can receive from things like restaurants and spas that it makes available to the public at large. This helps make sure the association doesn't take too big of a hit if the business fails.
Other Requirements
There are several other basic guidelines that need to be met before your condo financing can be approved by your lender:
Any pending legal issues the condo association or developer is involved in need to be reviewed. If there's any litigation involving safety issues, the loan can't be approved.
Your lender will review the condo bylaws to make sure there aren't any restrictions that would unreasonably prevent you from paying off your loan (e.g., restrictions on sale).
The association also has to have the appropriate level of property, liability and fidelity insurance coverage in case of certain losses. This is verified through the documentation provided by the developer or condo association.
Now that you know what to expect, perhaps you're ready to make the move on that condo. Get started online or call (888) 728-4702. You can also check out our current mortgage rates.
Apply Online with Rocket Mortgage
Get approved with Rocket Mortgage® by Quicken Loans – and do it all online. You can get a real, customizable mortgage solution based on your unique financial situation.
Apply Online