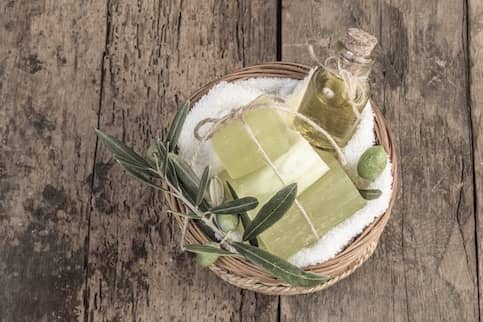 Housewarming Gift Basket Ideas for Every Room in the Home
Published on June 13, 2017
Housewarming gifts are a great gesture to friends and family members. It's a celebration of a new home and can be personalized to reflect unique interests and hobbies. Not to mention, they include functional items and necessities that get lost in the hustle and bustle that often accompanies the moving process.
The newest trend in gift giving, often seen at wedding showers and college move-in days, is the housewarming gift basket, a bin stuffed to the brim with much-needed items that will help your loved ones get their lives started.
The best part of gift baskets is the potential for versatility. The receptacle, whether a woven basket or plastic bin, can be used as a means of storage.
Let's get creative by building baskets based on different rooms in the home.
Kitchen
Giving a basketful of cookware and bakeware allows the new homeowners to be able to cook and serve a meal. Adding a personal touch to the basket can also help their new space feel like home. Try to stick with neutral and complementary colors when assembling the basket.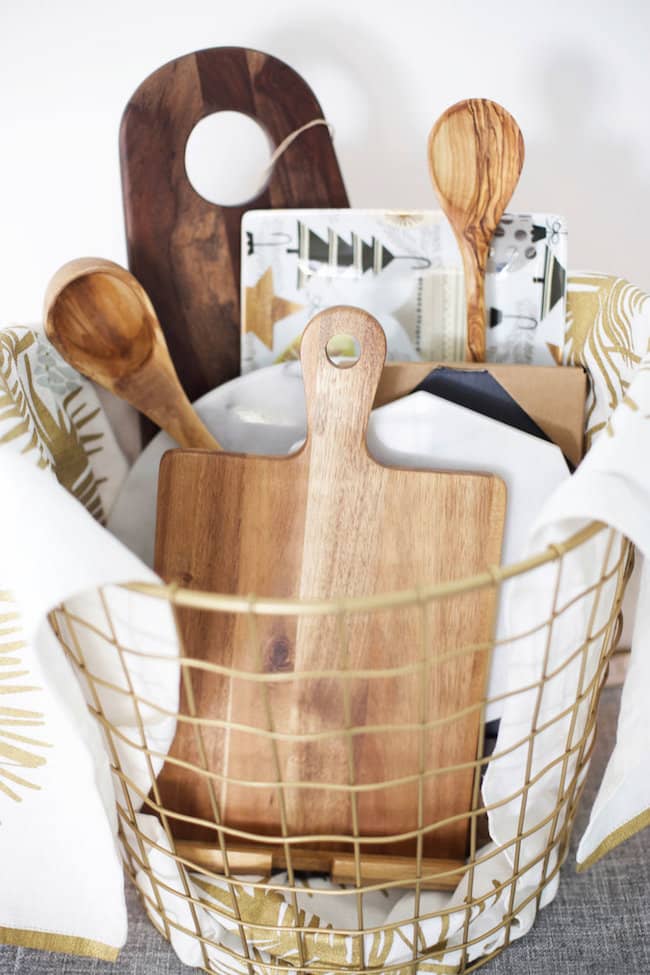 This is a great example of a simple yet personal and elegant gift basket that can provide the homeowner both functional and fun pieces for their kitchen.
For reference, the basket, found on KristiMurphy.com, includes:
Table runner
Three cutting boards, including two mini cutting boards
Table stand
Plates
Salt and pepper shakers
Coasters
Spoons
Mini whisk
Wine stoppers
3-piece cheese knife set
Cheese board
Lazy Susan
The items in the basket all complement each other in color, theme and purpose, making this basket a great gift for the cooks in your life.
Bathroom
Cleaning and organizational supplies are such an underrated yet invaluable gift. While not the most glamorous gift, they are a necessity around the house, and any time you can save the homeowner a trip to the store is a good gift, in my book!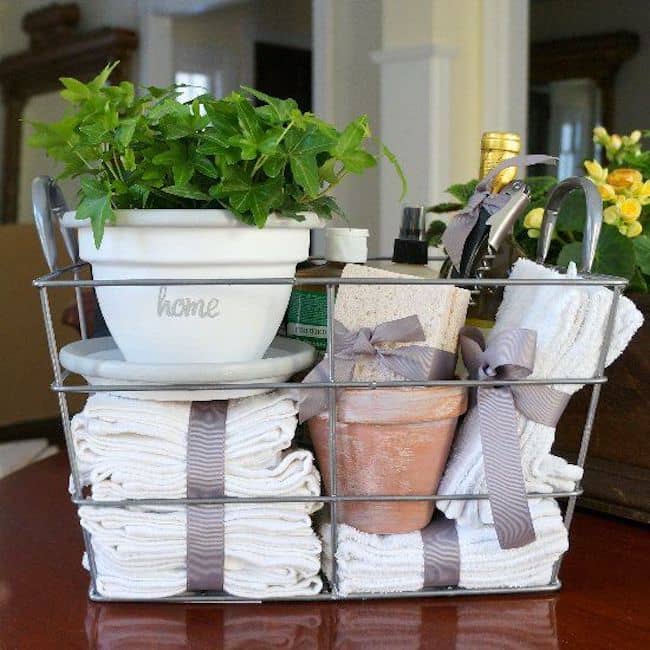 Take your gift to the next level by using a decorative basket to hold all of your items. This one is a perfect example of a basket that can be displayed in the bathroom as a towel holder.
Then, fill your basket with any cleaning necessities for the bathroom. This basket has:
Rubber gloves
Spray cleaner
Liquid soap
Various sized cleaning rags
Sponges
Victoria Elizabeth Barnes even took a comedic angle to her cleaning basket and added a wine bottle and corkscrew, for when you need liquid courage to get the job done!
The key is to have fun and add your own personal touch. The more sentimental, the more the gift will feel like home.
Bedroom
The bedroom should be a place of relaxation. After a long day at work, it's nice to kick back and relax. That's why a basket full of soothing things would make a great housewarming gift. Amid the stress of moving and unpacking, give the gift of unwinding.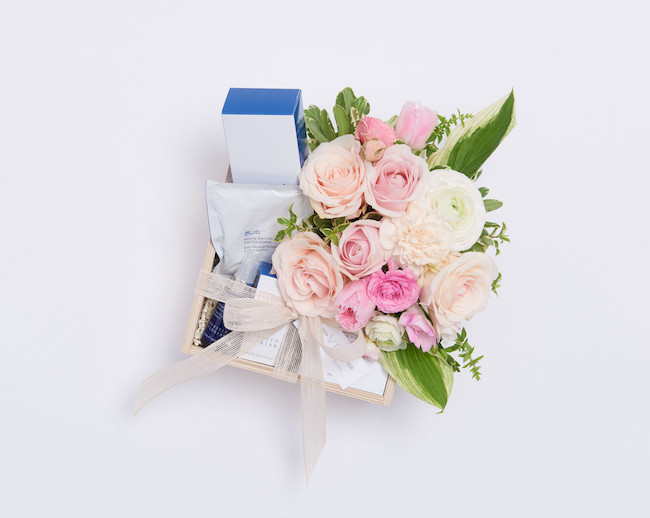 I love the gift boxes from ValleybrinkRoad.com. They're so well put together in presentation and useful, too.
This box is an aromatherapy box, filled with:
Organic neroli blossom bath
Body oil
Mineral wellness soak eucalyptus sachets
Turkish body scrub
Delux travel rehydrating neroli water
Calm mind oil blend
I feel relaxed just reading the contents of the gift box! Hopefully your friend or family member will, too.
Living Room
The living room is one of the common spaces in the home used for entertaining. It has comfortable seating, allowing everyone to socialize, and typically is a more relaxed environment than the kitchen or dining room. For friends and family who love to entertain, a gift basket can do wonders!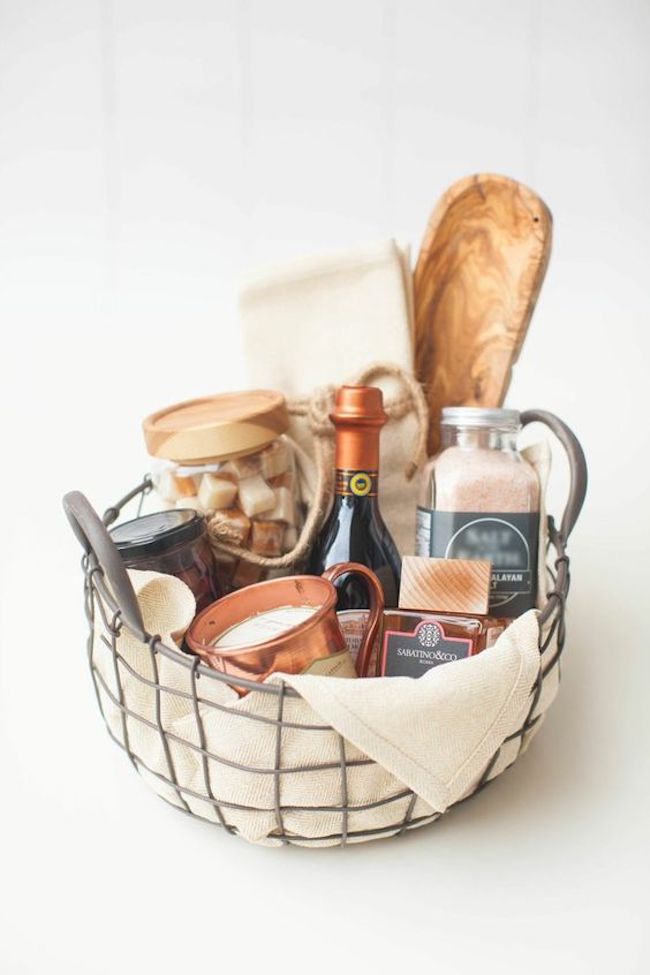 This basket has tons of goodies inside, all pulled together by a charming earth-tone color scheme that will match most living room décor.
The basket is packed with:
Wooden serving tray
Aged balsamic vinegar
Kalamata olive jar
Moscow mule glass candle
Serving towel
Aged cheese
Himalayan pink salt
Honey
This basket, put together by POPSUGAR, gives the homeowners a great cheese sampler tray, which is an elegant centerpiece for any party.
Dining Room
There's nothing better than starting off your morning with a fresh cup of Joe! That's why I love this next basket. It's multifunctional, with three tiers that store different items you might need on your table. It also doesn't hurt that it's super cute!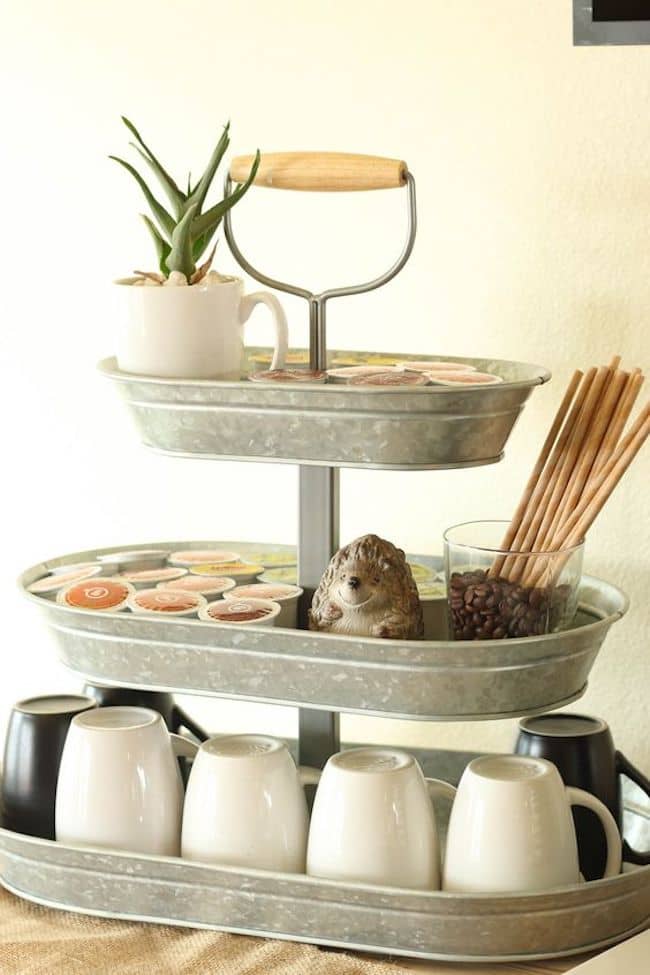 While this isn't a "basket" per se, the three-tiered serving tray is a perfect display for everyday items the homeowners need within reach.
The tiers are filled with:
Coffee mugs
Instant coffee capsules
Stirring sticks
My favorite part of this "basket," designed by The Creative Studio, is the cohesiveness of the theme. The decorations include a glass filled with coffee beans, functioning as a container for the stir sticks, and the complementary colored hedgehog figurine and plant.
Office
If the homeowners happened to move into a home with an office or plan on converting a spare room into an office space, office supplies can help their new area transform into a space of productivity. Step up your gift game by purchasing personalized supplies with their initials engraved or in their favorite color schemes.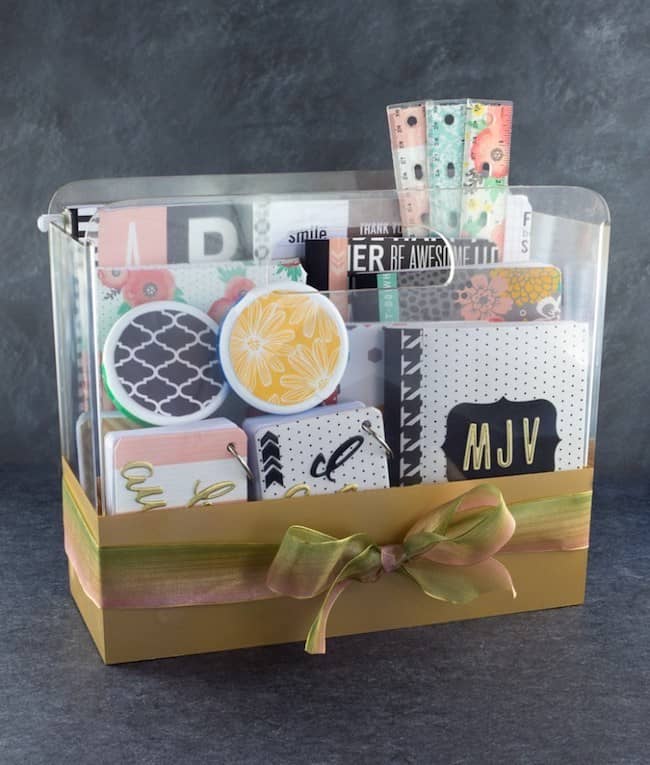 Inspired by Tatertots & Jello, this basket incorporates a cute arrangement of supplies, all tied together with a similar color scheme.
More importantly, it includes important office supplies, like:
Composition books
Binder clips
Paper clips
Notecards
Rulers
Containers
Note cards
Scissors
Paper cutter
How can you possibly get work done with those distracting colors and personalized notebooks? Hopefully, the new homeowners will put your gifts to good use in their office space.
Outdoor Aficionados
For those who enjoy the great outdoors, a gift basket full of gardening and lawn care supplies could be just the things to make their house feel more like home. By adding greenery and flowers to their outdoor or indoor living spaces, the recipients will be able to add their personal and unique taste to their space.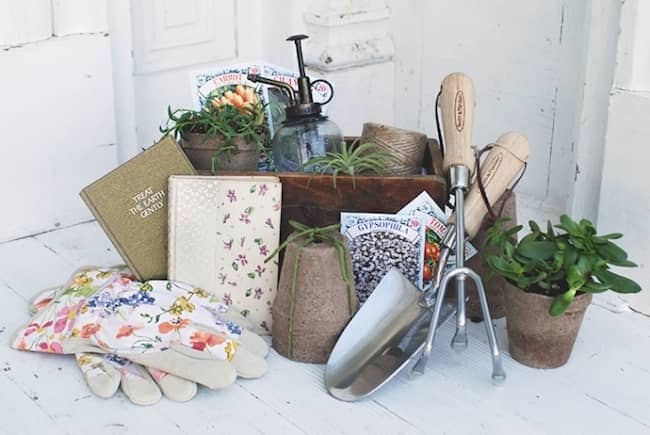 I love this basket, found on The Merrythought. It includes things that incorporate indoor-outdoor living into the home. For example, the basket is a wooden planter that can be used for indoor plants.
Other items include:
Gardening gloves
Garden trowel
Garden hand cultivator
Seed packets
Twine
Plant mister
Floral journal
Gardening book
Peat pots
Air plants
Succulents
Give your loved one a fresh start to their new home by giving the gift of fresh plants and gardening supplies.
Get Packing
When my fiancé and I moved into our new home, we received thoughtful and helpful gift baskets from our family and friends, filled with items we needed to get our lives started and some that even made our new place feel like home.
We hope you found this article inspiring and helpful for the next time a friend or a family member moves into a new home. If they're more inclined to enjoy the techy side of things, check out our tips for tech gadgets that make great housewarming gifts!
Which one of these gift baskets would you give as a housewarming gift? Let us know in the comments below!
Take the first step toward buying a house.
Get preapproved to see what you qualify for.
Start My Preapproval