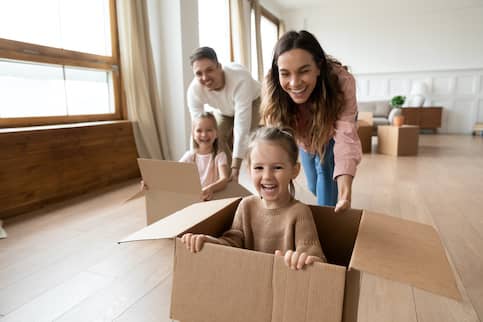 How To Get Your House Ready To Sell: Tips And A Checklist
Published on January 5, 2020
Selling a house is stressful. You'll need to keep your home in pristine condition each day it's on the market, declutter your interior spaces to make your rooms seem as airy and bright as possible and be ready to scatter from your home whenever a showing is scheduled. The goal, then, is to end this stressful period fast by selling your home as quickly as possible while still fetching the highest sales price. Fortunately, there are several steps you can take to increase your odds of accomplishing this task.
Here's a look at the strategies you should follow if you want to move your home from "for sale" to "sold" in the fewest number of days, something that should significantly reduce your stress level while selling.
Find Your Listing Agent
The first step? You need to find a listing agent who can market your home to the greatest number of potential buyers.
The key is to work with an agent who knows your market. This agent can tell you when you've received a fair offer and when you've received one that's below market value. Agents can also help with the most important aspect of selling a home – setting the right asking price. If you set your price too high, you won't receive many, if any, offers. If you set it too low, you might sell your home quickly, but you'll also reduce the profit you otherwise could have earned.
A skilled agent will study other home sales in your area and help you set the right asking price to avoid either of those mistakes.
When interviewing real estate agents, ask them how long they've worked in your market. Ask them, too, for a list of recent sales they've closed. That way, you can determine how successful agents have been in getting top dollar for their listings. You should also ask for a list of past clients. You can then call these referrals to ask about how responsive an agent is and if they were satisfied with the agent's performance.
Would you rather sell without a REALTOR®? You won't have to pay the commission real estate agents charge – usually 6% of a home's final sales price – but you do run the risk of not promoting your home to the widest number of potential buyers. This can result in a lower sales price. Make sure you can handle the marketing aspect of selling a home if you decide to skip working with a real estate agent.
Apply for a Mortgage today!
Apply online for expert recommendations with real interest rates and payments.
Start Your Application
Do Your Research
You'll struggle to sell your home if you don't first set the right asking price, one that's not too high or too low for your market. Fortunately, you, or your real estate agent, can do the research necessary to boost your odds of setting the right asking price.
Explore Comps
One of the things appraisers do to put the correct value on your home is study comparable properties (you may also hear these referred to as "comps"). Comparable properties are homes in your community that are similar to yours. Appraisers look at the sales prices of recent comparable properties to help determine the current market value of your home.
But you can also tour comparable properties to determine what features and amenities are popular today. For example, if you see what other homeowners are doing to their three-bedroom ranches, you can start to get ideas for yours.
If other homeowners have new floors or new bathrooms, that's something to take note of. You don't necessarily have to act on everything you see, but it gives you an idea of what the competition is doing.
Beware Of Trends
You might be tempted to follow visuals you see on popular social media platforms, but it could be counterproductive – you may be too influenced by the latest trends and might turn off some potential buyers. Trends come and go, and they might not appeal to everyone.
People who regularly deal with appraisals say that you don't want to make any updates that give potential buyers a clue as to when the space was last touched in any sort of update. This is where more classic styles have an advantage.
Declutter And Stage
It's important to have your house properly staged for when people walk through. This means arranging your house differently than you might if you were normally living in it.
Because you don't see a ton of houses every day, it can help to hire a professional stager. This is relatively inexpensive, and the person will be able to consult with you about the best way to lay out your space.
As a fair warning, there's going to be a lot of stuff they'll tell you to get rid of. There are two reasons for this: First, people want to imagine their stuff, not yours, in the room. Second, removing unnecessary items makes the room seem bigger.
While we're talking about staging, you want to post your house online on sites like Zillow and Trulia. You want to be where people are looking.
These sites are very visual, so when you're staging your house, think about how it will look on the site in the photos. There's a lot that goes into it, but try to take pictures in the order people would be going through the house, and pay particular attention to lighting.
Be sure to remove personal items such as family photos and memorabilia. You want potential buyers to visualize themselves living in your home. They'll struggle to do this when they are staring at photos of your family.
Do you have pets? You'll want to remove any signs of them before buyers tour your home. This means removing litter boxes, crates, pet food and pet toys. You'll also need to take your dogs or cats away when people are touring your home. Many buyers will be instantly turned off by the thought of living in a home that has had pets. And be sure to give your home a deep cleaning to remove any potential odor that comes from your pets.
If you have too much stuff, consider renting a storage unit while your home is on the market. This way, you can move your items to this unit to create an airier, more open atmosphere in your home.
Do A Deep Clean
Your home needs to be clean if you want to impress buyers. A dirty, cluttered home will be tough to sell. You should, then, invest either time or money in a deep clean before listing your home.
Focus on problematic areas such as your kitchen and bathrooms. These rooms are key to selling a home. If they are cluttered and dirty, buyers will be turned off. But also make sure that your home's floors are clean and polished, your rugs are steam-cleaned and your windows are clear and bright.
You can do your deep clean yourself or you can hire professional cleaners.
Apply for a Mortgage today!
Apply online for expert recommendations with real interest rates and payments.
Start Your Application
Make Strategic Upgrades
Once you've done your research, you can decide what, if anything, you need to renovate. Although it may vary based on what the market looks like in your area, there are a few overarching generalizations that can be made as a place for you to get started.
Get A Home Inspection
Home inspections aren't free. But hiring an inspector to tour your property can pay dividends when you're selling your home. An inspector will tour your home and property, looking for problems such as aging roofs, cracking foundations, dying appliances and termite infestations.
An inspector's report, then, can help you identify problem areas in your home before you put it on the market. You can then fix these issues before listing your property, eliminating potential problems before buyers have the chance to discover them.
Maximize Value
Big-ticket items are attractive to buyers. Prospective buyers have a good idea of how much particular renovations would cost if they were to do them on their own. Therefore, having a recently updated bathroom, kitchen or flooring makes a good impression.
Another thing to keep in mind is when people walk through your home, they'll notice the quality of the materials used. Porcelain might take a little more out of the pocketbook than ceramic, but it's also going to hold up better in the long run.
When considering quality, though, it's important not to outspend the neighborhood. Because of the way appraisals work, you're less likely to get as much back in terms of home value by going with the latest and greatest unless everyone is doing it. For example, if you put in a fancy built-in oven fit for a top cooking show, the only way you can be sure to see a value increase is if your neighbor also does and then sells their house for more.
If you're looking for a more cost-effective way to get a new look, try updating fixtures and sinks. In this area, though, it's important to keep things cohesive. You don't want your brass mixing with satin nickel or chrome.
Remember that you'll rarely get a one-to-one return on any home improvement. If you spend $10,000 on a new roof, you won't necessarily be able to add $10,000 to your home's sales price.
The right asking price still depends on what similar homes are selling for in your neighborhood. Don't make the mistake of thinking that spending $25,000 on turning your basement into a home entertainment center will allow you to tack $25,000, $30,000 or more onto your home's sales price. These improvements, though, might mean that buyers will make an offer on your home over another in your neighborhood.
Don't Forget Small Improvements
Another thing you can do in the kitchen is change the knobs on cabinets to give them a new look. The same principle applies to handles on doors throughout the house. The door itself doesn't change much, so the handle can give it a whole new look.
But new looks aren't limited to doors. You can also add new drapes and blinds to accessorize windows. While these additions may not add a particular dollar amount to the value, they certainly add to the aesthetics that could motivate interested house hunters to put in an offer.
Paint
A fresh coat of paint is always a smart move. Adding new paint to bedroom, living room and kitchen walls can bring new life to otherwise tired rooms. Fresh paint, in fact, is one of the most cost-effective improvements owners can make when selling a home.
Be careful with colors, though. You might like bright red or orange, but many buyers won't. It's best to paint your wall in neutral colors – think white, gray or beige – so as not to turn away any buyers not interested in painting over your purple kitchen walls.
Improve Curb Appeal
First impressions are extremely important when it comes time to sell your house. There are the basics like making sure the lawn is properly manicured. Beyond that, you can take some steps to inexpensively dress things up. To give the house a little life and a pop of color, you can buy potted plants and other things that you can easily take with you when you move.
New shutters can help give a different look to your house's exterior. Also, it may help to power wash a grimy brick face and do the same thing to breathe new life into an aging deck or patio.
If you're looking to sell your home in the fall or in the winter, there are still some special things you can do to give your exterior that added boost.
Checklist: Is Your Home Ready To Sell?
Ready to list your home? Here's a checklist to follow:
Find the right real estate agent to help you market and price your home.
Work with your agent – by studying the sales of homes similar to yours – to set the right asking price.
Tour local open houses to study their amenities and features.
Give your home a deep cleaning before listing it.
Reduce clutter by getting rid of extra furniture, décor and personal items.
Invest in major or minor repairs. Make sure nothing in your home is broken.
Hire a home inspector to uncover – and then fix – significant structural and other problems with your home.
Paint your home's interior walls. A fresh coat of paint is an inexpensive and impactful fix.
Work on your home's exterior landscaping, removing weeds, planting flowers and mowing your lawn.
Once you set the stage, it's time to put on the performance. Selling a house is no different.
Much like knowing your lines, you (and your real estate agent, if you have one) should know all the selling points and major features of your house. It also helps to know the school system and any local attractions.
Finally, it doesn't hurt to butter people up a bit. I'm sure you've been to the local discount electronics warehouse on a weekend when they try to attract customers with the prospect of free hot dogs. You can employ a similar strategy by setting out cookies and lemonade or hot chocolate, depending on the season.
And if you're buying a home at the same time you are selling, getting your current house ready for market is especially important. It's a challenge to balance selling and buying a home at the same time. But if your current home is ready to sell, you can close your sale faster, removing much of the stress of buying and selling at the same time. Don't skimp on getting your home market-ready. You'll be thankful you did the extra work when the offers start coming in.
Apply for a Mortgage today!
Apply online for expert recommendations with real interest rates and payments.
Start Your Application