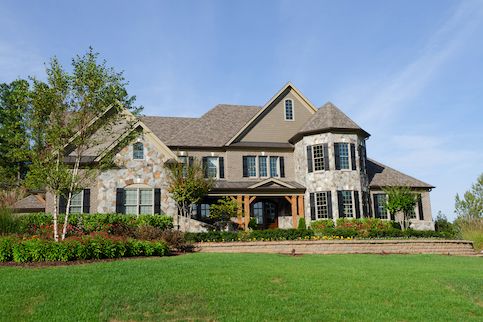 Think Jumbo Loans Equal Jumbo Down Payments? Not So Much
Published on July 10, 2019
Jumbo mortgages are kind of a big deal. How big? They don't even bother to show up to the party unless you're trying to get approved for a mortgage of more than $484,350.
But not everything about a jumbo loan has to be supersized. In fact, one significant portion of your loan investment just got smaller.
You can now get a jumbo loan through Quicken Loans with a 10% down payment instead of the 20% that's typically been required within the mortgage industry over the years. This is for single-family homes with loan amounts up to $1 million.
It gets even better. Even with a down payment of less than 20%, there's no private mortgage insurance required with this loan option. That's a big win for our clients. In celebration, we thought we would take a look at the types of clients who benefit most from this change.
Furthermore, if you're eligible for a VA jumbo loan, you may not need a down payment at all. Let's jump in.
10% Down Jumbo Loans
In many markets, the prices of homes themselves will push you into the jumbo mortgage category, and people who don't want to spend their life savings may have a hard time qualifying. The good news is you can get a jumbo loan with as little as 10% down.
Like any loan program, there are restrictions. Let's briefly go through them.
First, let's talk about the property itself. It has to be a single-family primary residence, and your loan amount can be no higher than $1 million.
From the perspective of the home buyer, you need a 760 median FICO®Score to qualify for this option. You also need to maintain a fairly low debt-to-income ratio (DTI) of no more than 36%.
You may be able to qualify with a slightly lower credit score or a slightly higher debt, but you should be prepared to make a higher down payment. A higher down payment may also allow you to get a loan of up to $3 million from Quicken Loans for a home.
Apply for a Mortgage with Quicken Loans®
Call our Home Loans Experts at (800) 251-9080 to begin your mortgage application, or apply online to review your loan options.
Start Your Application
VA Jumbo Loans
There's a special benefit that's exclusively for qualifying active servicemembers, reservists, veterans and eligible surviving spouses.
If you qualify for a VA loan, you can also get a jumbo VA loan with no down payment and loan amounts up to $1.5 million. This can be used to get a one to four-unit primary property.
The VA loan has another big benefit. Being able to qualify with a higher debt-to-income ratio (DTI) means you can afford more than you can with other loans. You could get a fixed-rate loan with a DTI as high as 60% and 50% for adjustable rate mortgages (ARMs).
Although the VA doesn't require a specific minimum credit score, lenders can set their own guidelines. To get a VA jumbo loan, the minimum median FICO®Score is 640.
VA loans do require a funding fee, which is anywhere between 1.25% – 3.3% depending on how many times you've used your VA entitlement as well as the size of your down payment. This can be built into the loan or paid at closing. If you receive VA disability compensation or are an eligible surviving spouse – having a spouse who passed either in the line of duty or as a result of a service-connected disability – your funding fee is waived.
When Do Jumbo Loans Make The Most Sense?
There are several situations in which a jumbo loan could be the best option for you. Let's go over them.
High-Priced Homes
Each month, Quicken Loans publishes an index that includes home values for many of the nation's biggest housing markets. There are areas of the country, particularly out West, where housing markets are hot right now. It's significant if you own a home in one of those markets because your investment is seeing strong value growth.
Depending on where you live, getting a jumbo loan doesn't necessarily mean you're looking at an extravagant mansion. You might instead be picking out a two-bedroom, one-bathroom home in Palo Alto, California. With home prices being what they are in the area, you could be very easily priced out of a traditional conforming loan amount.

The reduction in minimum down payment to 10% helps minimize the barrier to entry by making the savings goal a little more attainable. You still have to save your pennies, but you should be able to get a home sooner.
Financial Flexibility
All in all, you may find that you have money invested in high-performing accounts that you might not be ready to liquidate in order to buy a house.
Requiring less money to buy and less equity to refinance can help give you more leeway in determining how your money is invested. Having additional financial options is always good, giving you more control over your investment portfolio.
No Mortgage Insurance
Any loan option where you can avoid paying mortgage insurance is particularly attractive to applicants because it's one fewer monthly charge that you have to tack onto your mortgage payment.
Most of the time when you get a loan (excluding VA loans), you have to pay monthly mortgage insurance if you don't have 20% equity. Once you reach that amount of equity, it can either be removed, or you'll have the option to refinance to get rid of it.
Under this new jumbo option there's no mortgage insurance requirement, and you only have to put 10% down. This means more money in your pocket.
If a smaller down payment on a big loan sounds good to you, you can get started with your jumbo mortgage application or call (800) 251-9080. If you still have questions, leave them in the comments below.
Apply for a Mortgage with Quicken Loans®
Call our Home Loans Experts at (800) 251-9080 to begin your mortgage application, or apply online to review your loan options.
Start Your Application