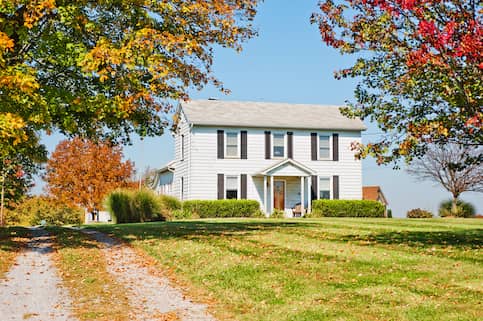 USDA Loans: Eligibility Requirements, Pros And Cons, And More
Published on May 31, 2023
The federal government has an interest in seeing available land developed for productive uses. One of the ways it promotes this is through USDA loans, providing a no-down payment loan option for eligible homeowners living in a designated rural area. Although Rocket Mortgage® doesn't offer these loans at this time, we want to make you aware of all your options.
What Is A USDA Loan?
A USDA loan (also known as a Rural Development loan) is a type of government-backed mortgage that is guaranteed by the U.S. Department of Agriculture (USDA) to support rural housing markets. Because they don't require a down payment, USDA loans provide an affordable borrowing option for home buyers looking to buy a home or refinance in a rural area.
How Do USDA Loans Work?
USDA loans are backed by the U.S. Department of Agriculture, making them more accessible than other loan options. The centerpiece benefit to this loan option is the ability to buy a home with a 0% down payment. There are upfront and annual guarantee fees (split into monthly payments), but these are lower than FHA mortgage insurance premiums.
You can get a USDA loan as a 30-year fixed-rate mortgage. While no other terms are offered, this does mean a lower monthly payment compared to shorter terms.
If you already have a USDA loan, you can refinance it into a new USDA loan; however, you can't refinance with a USDA loan if you currently have a different loan type. Additionally, if you refinance an existing USDA loan into a new one, you can't take cash out that's not being invested in home improvement.
What Are The Qualifications For A USDA Loan?
While we'll get into each of these in a little more depth below, every loan has certain general qualifications that borrowers must meet. To qualify for a USDA loan, you'll need:
Decent credit: Although the USDA itself doesn't specify a minimum qualifying credit score, lenders can set their own policies. It's not unusual to see a minimum FICO® Score of 640 or higher be required to qualify.
An eligible property: The home you want to buy or refinance must be in an eligible rural or suburban area. Find out if your property is eligible.
Income limits: You must have a household income under the limit set by the USDA for the area where you want to buy a home. Check your income eligibility with the USDA. It's important to note that this includes all income received in the household, not just those that are taking out the loan.
Low debt: The amount of your debt going toward your mortgage payment every month can't exceed 29% of your gross monthly income. Your total debt-to-income ratio (DTI) must be no more than 41%.
Appraisal: In addition to making sure the property is in an eligible rural area, it has to have standard access to utilities consistent with the rest of the community as well as road access. The property has to be move-in ready.
Take the first step toward buying a house.
Get approved to see what you qualify for.
Start My Approval
A Closer Look At 2023 USDA Loan Eligibility Requirements
Let's go a bit deeper on eligibility requirements for those looking to apply.
USDA Geographic Eligibility
USDA loans were designed to help develop affordable housing in rural areas. USDA loans are not available in or around large, populated areas.
Fortunately, most areas of the country qualify to get a mortgage under this loan program. You can check area eligibility by putting an address into the USDA eligibility map. If you're looking to buy in an area that's not marked by orange, you may be eligible for a USDA loan.
USDA Income Limits
To qualify for a USDA loan, you and all the people in your household can't make more than 115% of a median family income. Median family income is defined as the greater of the following:
115% of the U.S. median family income
115% of the average of statewide and state non-metro median family incomes
The area income limit for the USDA's housing initiatives multiplied by 1.4375.
Household income is a meaningful distinction because it includes the income of those living with you without regard to whether they're on the loan. The calculation is based on gross income.
Fortunately, you can exclude certain expenses in the right circumstances. Categories receiving special treatment include childcare and disability expenses along with student income.
Child care costs can be deducted for those 12 and under. You can also deduct any expenses related to disability that exceed 3% of your annual income. It's also important to note that if any adults in the home are full-time students, only a certain portion of their income is counted for qualification purposes.
You can use this income calculator from the USDA to help you get an idea of whether you qualify. They also have a listing of income limits for individual counties broken down by family size. To get an idea of how this works, we've included specific metro areas in the table below. The USDA has different income limits for its direct loans, but the ones that we'll use are for the mortgages done by lenders and guaranteed by the USDA. These are updated in June of each year.
| | | |
| --- | --- | --- |
| Location | Current USDA Income Limits For A 1 – 4-Person Household | Current USDA Income Limits For A 5 – 8-Person Household |
| Auburn-Opelika, Alabama | $103,500 | $136,600 |
| Garfield County, Colorado | $103,800 | $142,950 |
| Springfield, Illinois | $109,700 | $144,800 |
| Ann Arbor, Michigan | $129,400 | $170,800 |
USDA Debt-To-Income Ratio (DTI) Limits
Your debt-to-income ratio (DTI) is a comparison of your monthly debt payments against your overall monthly income. When qualifying you for a USDA loan, underwriters are required to calculate both your housing expense ratio and your total DTI including housing and all other debts.
Your housing expense ratio is the principal, interest, taxes, insurance and homeowners association dues (PITIA) payment divided by your gross monthly income. When converted to a percentage, this can't exceed more than 29%.
Your total DTI is also calculated with all of your minimum monthly debt payments. This shouldn't exceed 41% of your monthly income.
USDA Credit Requirements
The USDA doesn't set a specific minimum credit score to qualify for a loan. That said, lenders may set their own requirements in terms of the credit score necessary to qualify for a mortgage. Many times, that score may be a median of 640 or higher.
USDA Appraisal Requirements
USDA appraisals differ from standard appraisals in that the appraiser must check to make sure that the property meets USDA guidelines, and then determine its fair market value.
Minimum Property Requirements (MPRs)
There shouldn't be too many surprises when it comes to what USDA appraisers are looking for when they examine the property. However, it's helpful to understand the guidelines they'll use, and the reasons behind those rules.
The appraiser will use the following guidelines aim to make sure the home will be legal, safe and livable:
Structural integrity: The foundation and roof of the home must be in an immediately livable condition.
Wiring, plumbing, heating and cooling: The electrical system must be sound, with no exposed or fraying wires, and it must be able to support standard appliances such as a refrigerator. Plumbing must be functional and include waste removal. Heating and cooling systems must be functional.
Access to home: The home must be accessible from a road that will function in all seasons.
Location of well and septic system: A well must be at least 100 feet from the septic field in many circumstances.
Compliance with all zoning and building codes: This includes state and local guidelines. For manufactured housing, these standards would be set by the Department of Housing and Urban Development.
Home, Property And Land Disqualifications
As part of the home appraisal, the appraiser will use the following guidelines to make sure that the property is a good fit with the philosophy and aims of the USDA loan:
Restricting location: The home must be in a qualifying rural area.
Income-generating buildings: A property with an income-generating building, such as a barn or commercial greenhouse, will not qualify.
Pros And Cons Of USDA Home Loans
USDA loans have their advantages and disadvantages. Let's take a look at these.
Pros
Cons
Small lender network: Many private lenders – including Rocket Mortgage – do not offer USDA loans. The USDA maintains its own lender network.
Geographic eligibility restrictions: USDA mortgages are made for the purpose of development in rural areas of the country. As a result of this, you must be in a rural area or one on the outskirts of suburbia. While most of the country falls in an eligible area, you wouldn't be able to get a loan through the USDA in a major metropolitan area. Check the USDA eligibility map for more details.
Income limits: To get a USDA loan, members of your household can't make more than the income limits in effect in your area. This contrasts with some other loan programs with income limits where only the income of the applicants is considered. On the other hand, these limits are higher than limits on some other loans.
Guarantee fees: Most loans that allow borrowers to make low (or no) down payments require a form of mortgage insurance. This is meant to protect the lenders and/or investors backing the loan. The USDA version of this insurance is called a guarantee fee. USDA loans have upfront guarantee fees of 1% of the loan amount, after which the annual guarantee fee is 0.35% of the average unpaid principal balance each fiscal year. While these fees are reminiscent of the mortgage insurance required on FHA loans, one benefit is that they're lower in many cases.
Single-unit home requirement: In contrast to most single-family home lending programs, which typically allow you to purchase homes with up to 4 units, you can only buy 1 unit with a USDA loan.
How To Get A USDA Home Loan
There are several important points to getting a USDA home loan. Let's quickly run through them.
You'll want to gather all documentation necessary to qualify including W-2s and bank statements or 1099s for your entire household because all the income counts toward the income limits. A good rule is 2 years on things like W-2s and tax returns. You want 2 months' worth of pay stubs. This is good to start with because you'll need this documentation even if you don't go with a USDA loan.
Make sure you're buying in an eligible area with the eligibility map.
Check local income limits where you're looking to buy.
Find a USDA-approved lender. Although we don't offer these, they do keep their own list at the USDA.
Get an appraisal. This is necessary to check the safety requirements as well as the value of the property.
Get ready to close. Follow your lender's instructions getting ready for closing day and grab the keys.
The Bottom Line
A USDA loan allows those who meet income limits when buying in eligible rural areas to get into a home with no down payment. There are guarantee fees, but the USDA also has flexible requirements in terms of building closing costs into the loan. On the downside, the income limits take into account your entire household. Rocket Mortgage doesn't offer these loans.
If a USDA loan doesn't match your needs, we can help you look into other options. Apply online or give one of our Home Loan Experts a call at (888) 452-0335.